Tissue 2 Target: Partnering to Serve Your Pre-Clinical R&D Needs

Are you working in Pre-clinical R&D, Translational Research or early-stage Clinical Trials?
Are you looking for a CRO that can provide human sample validation and expertise in molecular biology for drug and biomarker discovery and development?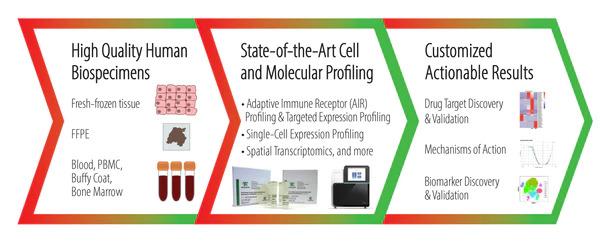 With Tissue 2 Target, a partnership between The Cureline Group of Companies and Cellecta, Inc., you have a one-stop service provider to
procure high quality, well characterized human biospecimens
provide advanced genomic analysis of the samples
produce customized, actionable data in an efficient, reliable manner.
With Cureline and Cellecta, a team of experts with decades of experience will help develop your pipeline and ensure your pre-clinical and translational research needs are met on time and under budget.
Sample assay workflows
Sample Types
Analysis
Application
Results
Blood, PBMC, Bone Marrow, Buffy Coat
Immunophenotyping: DriverMap Expression Profiling Assay OR Marker/antigen detection by Flow 
Gain insight into which cells are involved and which pathways are implicated in immune response.

Analysis Report 

 

FFPE Tissue
Spatial Gene Expression Profiling: Nanostring GeoMx Analysis
Measure patterns of gene expression in targeted areas of interest in and around a tumor, or identify differences in patterns of gene or pathway activation.

Analysis Report 

 

Fresh-Frozen Human Tissue (tumor and normal) Blood, PBMC, Buffy Coat
TCR/BCR Immune Profiling: DriverMap-AIR Repertoire Profiling
Characterize adaptive immune response in various disease states and therapeutic response by the sequences of T-cell and B-cell receptors and antibody variable regions (CDR3).

Analysis Report 

 

Fresh-Frozen or FFPE Human Tissue (tumor and normal) 
Gene Expression Profiling: DriverMap Targeted Expression Profiling (EXP)
Compare expression profiles of a variety of samples from as low as 10 pg total RNA to obtain information on how treatments or disease states alter expression levels. 

Analysis Report 

 

PBMC, Bone Marrow, Buffy Coat
Single-Cell Expression Profiling: 10X Chromium Analysis
Study cell-to-cell differences in expression and find rare cells in heterogeneous samples. 

Analysis Report 

 
Interested?
Provide us some details about your project and a representative will contact you. Email info@tissue2target.com today.