Cureline offers to the biopharmaceutical and diagnostics companies collection, preservation and processing of clinically-defined and consented human tissues for research. We have standard and custom tissue procurement protocols available for your research programs.
Our human tissue procurement protocols accommodate the quality recruitments for research applications used in the drug discovery and development process, including:
Target Expression Profiling
Genotyping Tissues/Biofluids
Preclinical Modeling
Molecular/Companion Diagnostics
Drug Safety Evaluation
Biomarker Discovery and Validation
Clinical Assay Development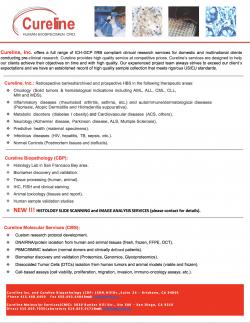 Download our brochure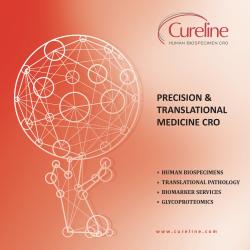 Download our brochure
Bioethical Policies
Cureline collaborates with major clinical and research centers in Europe, Asia, and the USA on human specimen acquisition projects. Our team develops standard and custom tissue procurement protocols that are approved by local IRB and Ethical Committees and that comply with international and local regulations and guidelines.
Cureline is committed to ensuring that the collection of human specimens for research purposes does not interfere with the patient's well-being and that a proper consent form is developed for each study in collaboration with clinical sites and the study sponsor. Standard Operating Procedures (SOPs) are implemented to guard patient's rights and to use the human specimens with maximum efficiency.
Clinical Information
All human specimens provided by Cureline are properly consented, de-identified and selected with accurate clinical diagnosis and therapy regimen by certified medical professionals. Standard pathology report summary and treatment history. Follow-up is available upon request
If requested, a custom clinical report form (CRF) is developed and implemented in prospective procurement studies. A detailed pathology report from a US-board certified medical pathologist and H&E slides can also be provided upon request