Carol Potera
Cureline's Products Used to Create Diagnostic Tests and Also Detect Expression of Biomarkers
Cureline, a human biospecimen CRO, specializes in providing human tissues for a variety of research projects. This niche company grew out of a tissue bank that Olga Potapova, Ph.D., set up to collect bone marrow from patients with particular hematological diseases when she worked at a biotech startup in South San Francisco, California.
When Pfizer bought that company, Dr. Potapova looked for a job at Genentech and other Bay Area biotechnology companies. Interviewers told her that her tissue banking skills were an unusual asset. Russian collaborators collected many of her tissue specimens, and biotech companies admired her ability to tap into that difficult resource. Rather than offer Dr. Potapova a new job, possible employers encouraged her to start a new business to supply them with tissues and related protocols.
Dr. Potapova started Cureline in 2003 to fill this gap. Genentech was her first customer, and a contract from Pfizer soon followed. "It was a very good start for a new company," she says.
The company began as a management group that collected tissue specimens and shipped them directly to clients. They set up tissue repositories and grew into a biobank. About four years ago, they started working with diagnostic companies to find biomarkers to select patients for clinical trials. Over the years, "we evolved to become a biospecimen and diagnostic CRO," says Dr. Potapova.
Cureline collects tissue samples in key therapeutic areas, including oncology, inflammation, neurological diseases, and normal tissue. Fresh human tissues and blood from healthy donors and clinically defined patients are available within 24 to 48 hours after collection for customers in the U.S. The company works with leading academic centers in 10 countries to acquire biospecimens.
The tissues that Cureline collects help improve drug treatment outcomes, claims Dr. Potapova. For example, only about half the patients who receive expensive biologics for arthritis and other conditions respond to the drugs. "A lot of time and money is wasted on patients who don't respond," she says.
Cureline helps create diagnostic tests to predict who will benefit from drugs either on the market or in pipelines. Other companies want to learn what biomarkers, such as RNA, microRNA, or antibodies, provide the best information. Or perhaps a company knows that certain patients, who have a specific mutation in a tumor, respond best to a treatment. Cureline collects biopsies of such tumors to develop a diagnostic test.
Although the Cureline name never appears on a final therapeutic product, "I really believe that Cureline contributes significantly to making the lives of patients better," says Dr. Potapova. Tissue specimens from Cureline have been used to develop several marketed products and more are in company pipelines.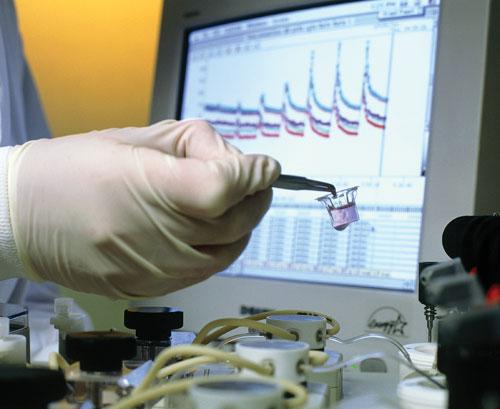 Cureline specializes in the development of protocols for obtaining, handling, and processing human tissue specimens for bioresearch. [James King-Holmes/Science Source]